Burning Man: AquaBurn Trilogy DVD
Aq AqAAua Burn is an award-winning documentary film by director Bill Breithaupt showcasing "The Floating World" theme of the 2002 Burning Man Festival. Aqua Burn features many of the incredible Burning Man art installations, the imagination and originality that went into their creation, and the artists who conceived them. Unlike conventional documentaries on the Burning Man Festival, Aqua Burn captures the true feeling and excitement of the event itself, transporting the viewer to a hot, dusty wonderland without ever leaving home.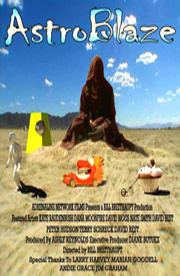 AquaBurn Burning Karma AstroBlaze Are You Lost?
Aqua Burn introduces you to artists like Peter Hudson, who created Sisyphish, a life-size 3D zoetrope of a swimmer, Nate Smith, who conjures a 20 ft. fire tornado, David Best & his crew's 78 ft. Temple of Joy - a tribute to 9/11, Deirdre DeFranceaux's beautiful sculpture of singingsirens, Shane Rogers and the Sky People show off their sky diving skills over Black Rock City, Terry Shreck's glowing metal sculpture Beacon, and Kiki Petit's incredible fire waterfall Egeria.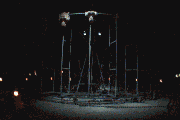 Burning Karma is darker and more intense than its predecessor, AquaBurn, yet it maintains a focus on the incredible art installations of the year's theme (Beyond Belief). Following many of the artists from AquaBurn, we see Terry Schrek's project "In God's Hands", Peter Hudson's return with Sisyphish, David Best's Temple of Honor, plus sky diving footage from Brian Burke & the Sky People, all set to classical music and hypnotic techno beats.
AstroBlaze, like its prequels, was edited in under a month and premiered at the 3nd annual Santa Cruz Burning Man Film Festival. A mellow, reflective piece, the film focuses on returning artist Peter Hudson and his mind-blowing life-size 3D zoetrope Deeper. Nate Smith's project, the Singularity Machine, (the fire vortex from 2002 perfected) also gains attention. In the film we are introduced to new artist Kate Raudenbush and her project Observer/Observed, a 10' x 10' cube of 2 way mirrors that gives it's entrants a new perspective. Another new artist featured is David Biggs and his project Constellations, a participatory piece invoking a deeper look at the ties that connect Burning Man participants to one another.
©copyright 2018. All rights reserved..
VideoClips and Images on this page are under copyright by Bill Breithaupt
Copyright ©Bill Breithaupt
1999,2000,2001,2002,2003,2004,2005,2006,2007,2008,2009,2010, 2011,2012,2013,2014,2015,2016,2017,20180